Create a Sleek, Comfortable Outdoor Living Space with Help from a Pensacola Deck Builder
Discover how a Pensacola deck builder can construct a custom deck that enhances an outdoor living space's visual appeal.
Ready to set up a sleek, comfortable outdoor living space at your Pensacola home? By partnering with an expert deck builder, you can get a custom deck that delivers an unbeatable blend of style and function.
Thanks to a leading Pensacola deck builder, you can get an eye-catching and versatile deck that:
1. Enhances Your Home's Curb Appeal
A deck offers a simple and effective way to boost your home's curb appeal. In fact, a deck builder employs knowledgeable professionals who can tailor a deck to your home. These pros will evaluate your home and what you want from your deck. They can then offer a personalized recommendation, so you can quickly and easily get a quality deck that enhances your home's overall appearance.
2. Increases Your Property Value
A deck provides an excellent short- and long-term investment. In the short-term, you can enjoy a stunning deck where you can host barbecues, birthday parties, and other events with family and friends. And in the long-term, your deck will continue to impress long after it is installed. Thus, a deck represents a terrific option for Pensacola homeowners who want to boost their property's value.
3. Extends Your Living Space
A deck increases a home's square footage. So, if you want to host guests outdoors when the weather is warm and sunny, your deck gives you the opportunity to do just that. A deck also provides you with the flexibility to host more guests than ever before. Whereas you may have once hosted guests exclusively inside your home, a deck ensures visitors can enjoy themselves in your residence or outside of it.
Find the Best Pensacola Deck Builder
There are many reasons to purchase a deck for your Pensacola home. Before you choose a deck builder, however, you need to consider what separates a great builder from a mediocre one.
Ultimately, a great deck builder in Pensacola won't settle for average results. The builder wants a homeowner to get a deck that dazzles. At the same time, the builder ensures a homeowner can select an affordable deck that maintains its appearance now and in the future.
A great deck builder also avoids shortcuts during the installation process. The builder devotes their full attention to a deck project and works with a homeowner to provide him or her with the right deck, at the right price. That way, a homeowner can reap the benefits of a top-of-the-line deck.
Choose Superior Fence & Rail for Your Pensacola Deck Project
Superior offers quality deck products at economical prices. Our team knows how to handle deck projects of all sizes, and we can provide you with a deck that makes it easy to create a sleek, comfortable outdoor living space at your Pensacola home.
We encourage you to reach out to us, so we can learn about your Pensacola deck project and help you get the deck of your dream. To find out more, please contact us online or call us today at (850) 706-7710.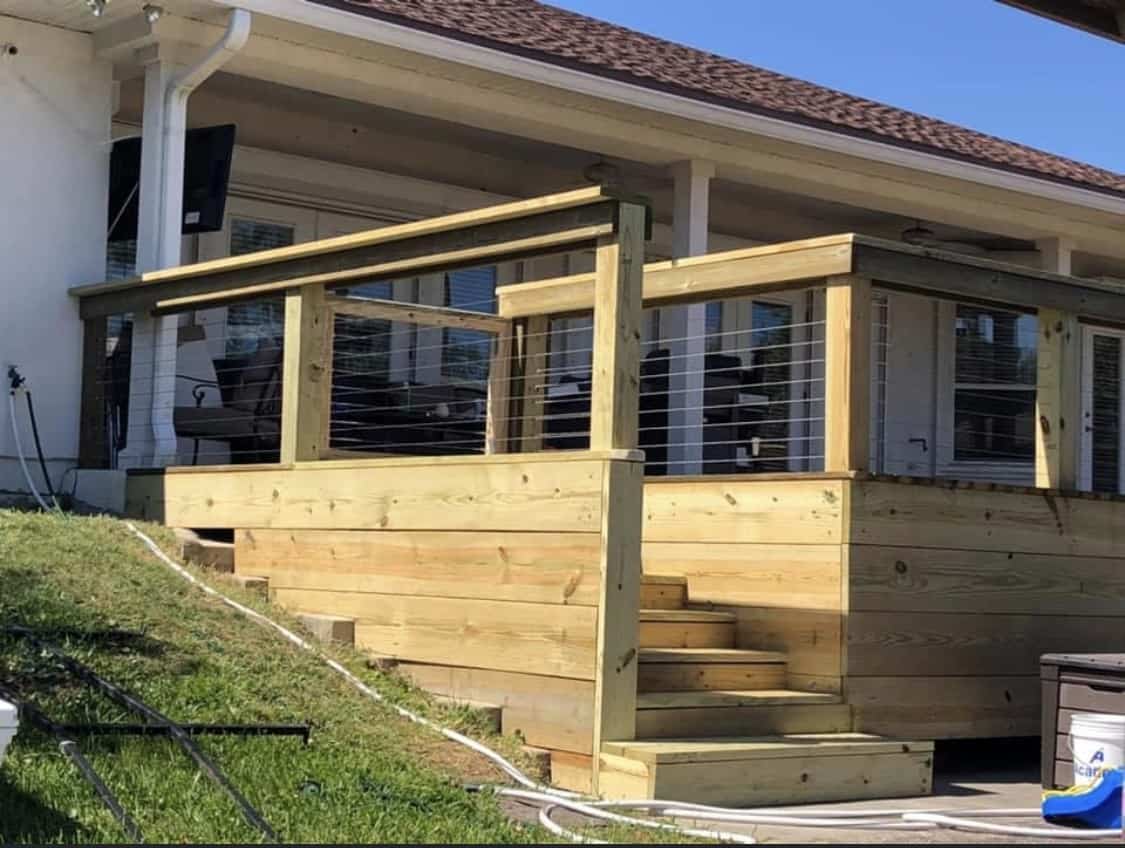 Create a Sleek, Comfortable Outdoor Living Space with Help from a Pensacola Deck Builder
Great Fences Make Great Neighbors!
Best Quality Fences
Highest Customer Satisfaction Rating
Fence Installation Made Easy
Licensed, Bonded & Insured
Your Superior Fence and Rail service team is standing by! Get a fence installation quote today!