5 Characteristics of a Great Fence Company for Your Franklin Fence Installation
There's a lot that goes into getting a Franklin fence installation done right. We have some things that you should keep in mind when looking for a great fence company to work with.
When it comes to choosing the right Franklin fence company to build your fence, you want to make sure they'll do a great job so your fence lasts for a long time. At Superior Fence & Rail of Nashville, we understand the importance of quality with your Franklin fence installation. To help you choose, our team put together a short guide to make it easier for you to identify a great company to work with.
Customer Service Record
You can get a good idea of what it's like to work with a company by reading reviews from past customers. Go to Google, Yelp, and Bing to learn more about what customers did and didn't like about working with a Franklin fence builder. Keep in mind that somebody could have left a negative review after they were rubbed the wrong way by something you consider minor. It's important to take each review with context as much as you can.
At Superior Fence & Rail, we're proud to have more than 3,000 five-star reviews and an overall satisfaction rating of 92%. Customer care is a top priority within our company so we want to make sure you have a great experience from start to finish.
Knowledgeable
Not every Franklin fence installation is as cut and dry as the last. There are nuances to every yard that need to be accounted for so you get the best fence possible. A knowledgeable builder will have answers to your questions regarding awkwardly shaped corners, dips in your grass, and landscaping that others might not. You can feel comfortable that your fence will get great attention to detail.
Beyond understanding the unique aspects of your yard, a knowledgeable and experienced Franklin fence contractor will be able to make recommendations that include the materials you can build your fence out of, styles, colors, and height.
Financing Options
Installing a fence is expensive. The company you're considering should understand that not everyone has the cash readily available to pay for a full fence out-of-pocket. Ask about available financing options so you can pay it off over time. As your Franklin fence company, we do offer financing. Our finance department can help you figure out a repayment plan from two to 12 years with funding from $1,000 to $100,000. When it comes down to it, we don't want money to be what keeps you from making your home more safe and secure.
Has Strong Relationships With Manufacturers
Before working with a Franklin fence builder, find out how much fencing they buy each year. If they buy massive amounts of fencing materials each year, they're going to have strong relationships with manufacturers. This is beneficial to you because they'll be more likely to get a good price on your fence, which will then be passed on to you. What's more, this is can build your confidence in their ability to get the materials on time and complete your installation.
Communication
It's difficult working with anybody who doesn't communicate well and it's no different when it comes to your Franklin fence installation. Pay attention to how well representatives from the company communicate with you when you're going through the preliminary steps of buying your fence. Then consider how the contractor speaks to you when laying out the plan for the installation. Poor communication can make for a poor overall experience.
Contact Us to Get Started
If you're looking for a Franklin fence contractor to help with your installation, get in touch with us at Superior Fence & Rail of Nashville. You can reach our team by calling (615) 988-4455 to schedule a consultation.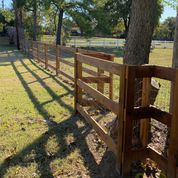 Great Fences Make Great Neighbors!
Best Quality Fences
Highest Customer Satisfaction Rating
Fence Financing Options
Licensed, Bonded & Insured
Your Superior Fence and Rail service team is standing by! Get a fence installation quote today!