Nine Advantages of Choosing a National Fence Installation Company
Often in life, good things don't last. You take that first exquisite bite of your favorite ice cream, and before long, your spoon hits the bottom of the bowl. You save money for your dream vacation, and before you know it, you're heading back home. You may have found a great handyman who quoted you a fair price for a job, but halfway through, he disappears on you. Now that you're building a new fence, you want a fence installation company that will stick with you through the entire process.
There are several distinct advantages in choosing a national fence installation company over a small local company:
Professional Service Standards. You demand first-class, 5-star rated customer service throughout your entire process. Find a company that takes great pride in its trustworthy, responsive, and attentive communication. They should offer friendly assistance with the many steps you need to prepare for your installation (survey, permit, etc.) and be happy to assist long after your fence is installed (maintenance, repairs, etc).
Warranty. When you opt for a national company, you should get a solid service warranty on workmanship and a strong manufacturer's warranty on materials. You should be able to find a company that offers a complete satisfaction guarantee on their entire process.
Consistent Training. With a national company, you get a seamless process performed by highly-trained, expertly-skilled installers who share the latest installation techniques amongst each other.
Licensed and Bonded. Work with a national company and you can rest assured they carry proper licenses in each of the counties they serve. They should also carry all necessary insurance (worker's comp, property, and personal liability insurance), so you don't have to worry about any unexpected mishaps that may arise to your property or to anyone on it.
Buying Power. With a national company, you can take full advantage of the tremendous savings they can offer. Typically, they either manufacture their own products in large volume, or they can purchase in massive quantities to be able to pass those savings on to you, the end customer.
Quality Fence products. When you work with a local fence company, they may purchase products from your local big box home improvement store. When working with a national company, you have access to the highest quality fence products; products that they may have even designed and tested themselves to better withstand specific local weather challenges.
Experience. A national fence installation company likely has been around for many years and has a long history of doing nothing other than building fences every day, day after day. They can offer stability and consistency, and you can rely on their expert, up-to-date installation techniques.
Selection. A national company may have access to a greater selection of fencing products and their products may be of a higher quality using cutting-edge technology in their manufacturing, treatments, and coatings.
Financing. When you choose a national company, you can often receive assistance with fence financing. The company may have relationships with preferred vendors, so you can easily shop for the best loan option for your family's budget.
When shopping for a local fence company with the backing of a trusted, professional national fence installation company offering all of the above benefits, consider Superior Fence & Rail. We have over 20 years of fence installation experience, and we install over two million feet of fence each year at our 18 locations in 7 states. With over 4,000 5 Star reviews and a 94% satisfaction rating, we have the highest customer satisfaction rating of any fence company in the country!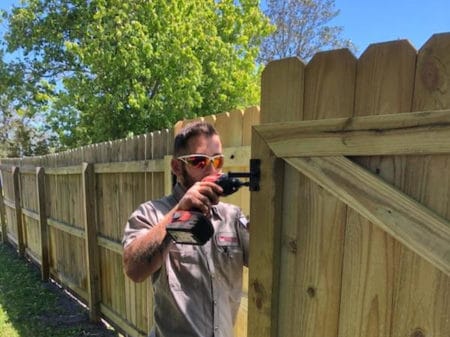 Great Fences Make Great Neighbors!
Best Quality Fences
Highest Customer Satisfaction Rating
Fence Financing Options
Licensed, Bonded & Insured
Your Superior Fence and Rail service team is standing by! Get a fence installation quote today!